stac.com.my > Instrument > Refractometer
Fish farming has became a real industrial process in the last decade or so. The scientific approach is now a necessity rather than a choice, specially considering the investments involved. In fact, in order to maximize the reproduction of fish, it is necessary to closely monitor the environment in which they live, that is water.
Refractormeter | RHS-10 ATC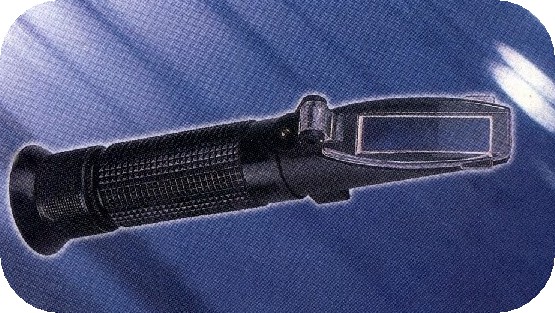 E-Brochure
The RHS series are designed for testing the concentration of salt water and brine. Provides a direct reading of the specific gravity and concentration (Parts Per Thousand) of salt in water. It provides reliable refractive index and salinity readings of total dissolved solids of aqueous solutions. It is used for quality control in research and clinical laboratories. it can be used to check and maintain stock solutions and dilutions. In the food industry, it is especially effective in the preparation of frozen vegetables, fruits, seafood and ocean byproducts. The salinity Refractometer is also used in oceanography and seawater studies for determining soil quality. The model having ATC (Automated Temperature compensation) is ideal for filed use.
RHS-10, RHS-10ATC (0-10% Salinity)

This model with high resolution scale of 1.0PPT is developed for low concentration use. It can be used for measure the concentration of saltwater used in rinsing sea products or in cooking, or for seawater checks

---

The scale range of 1.000 - 1..070 Specific Gravity (SG) are provided. The RHS-10ATC has a built-in automatic temperature compensation system for field use.

---

Measuring Range: 0-100PPT 1.070SG
Resolution Factor: 1.0 PPT 0.001SG

---

RHS-28, RHS-28ATC (0-28% Salinity)
This model has a larger measuring range , it can be used for measuring salt in brine or used for controlling the saltwater concentration when preparing pickles or any other prepared food solution. The RHS-28ATC has a built-in automatic temperature compensation system.

---

Measuring Range: 0-28%
Resolution Factor: 0.2%

Series

Model

Range

Min. Div

Accuracy

Remarks

Style Salinity

RHS-10

0-100 PPT

1.000-1.070 SG

1.0 PPT

0.001 SG

<![if !vml]><![endif]>1.0 PPT

<![if !vml]><![endif]>0.001 SG

W/O ATC

RHS-10ATC

0-100 PPT

1.000-1.070 SG

1.0 PPT

0.001 SG

<![if !vml]><![endif]>1.0 PPT

<![if !vml]><![endif]>0.001 SG

ATC

RHS-28

0-28%

0.20%

<![if !vml]><![endif]>0.20%

W/O ATC

RHS-28ATC

0-28%

0.20%

<![if !vml]><![endif]>0.20%

ATC